Destiny Etiko has something much more enduring than beauty. Grace, intelligence, adaptability, and talent. And by talent, we mean the capacity for hard work. Since bursting into the Nollywood scene in 2016, Destiny Etiko has evolved to become a prominent and influential personality in the industry through sheer determination and hard work.
Let's try and answer some of those questions Destiny Etiko fans ask by welcoming you to the world of Drama Doll, as she fondly calls herself.
Who is Destiny Etiko?
Birth and early life…
On August 12, 1989, while soccer-loving Nigerians were mourning the death of Samuel Okwaraji who took his last breath on the pitch of National Stadium, in Surulere, Lagos, during a World Cup qualifying match between Nigeria and Angola, 551.4km away, Destiny Etiko took her first respiration in Udi, a popular town in Enugu state.
It was still two months until the eagerly awaited Odo festival celebrated by most people in Udi local government area of the state with the ancestral spirit of the land. But attention shifted to the arrival of the second child to the Etiko household. What was missing as family, friends, and well-wishers gathered to wine and dine with the baby girl was the Odo masquerades.
Education
Destiny Etiko went to Zik Avenue Primary School, Enugu. She also had her secondary school education in the state this time at Queens School. While most of her classmates only had JAMB and WAEC on their minds, Destiny Etiko knew what the future had in store for her. Her role was to shape it. With a career path already defined by her passion for acting, how to harness it and earn a living out of it must have informed her choice of degree in the university. Destiny Etiko moved to Anambra state to study Theatre Arts at Nnamdi Azikiwe University, Akwa. She graduated with a Bachelor's degree in 2012.
While still in school, she registered with the Enugu branch of the Actors Guild of Nigeria, as a step in connecting with the industry, albeit surreptitiously. It had to be kept secret, especially because it would not have been approved of by her father knowing full well how he thwarted the acting career of her mother.
Destiny Etiko's mother was into acting before she met the man who would change the course of her life. As it is with most men at the initial stage of wooing or marrying a woman, John Anonde Etiko supported his sweetheart's dream of becoming the next Elizabeth Taylor, the star actress of that era. But when her hobby became very demanding, her hubby told her that it was time to quit and concentrate on her family and business. She acquiesced. Those were the days when feminism and equal rights for women didn't make the front pages of newspapers! Years later, she confided in her daughter that she wasn't happy she had to quit her passion for acting abruptly but had to do it for peace to reign at home.
Albert Einstein probably didn't have someone like John Etiko in mind when he said "insanity is doing the same thing over and over and expecting different results". He did the same thing and expected the same result. He told the daughter to quit acting as well but the millennial Destiny Etiko exhibited one of the characteristic traits of those born in that generation – to challenge the hierarchy status-quo. She explained to her father that age was still on her side and she was unmarried and that when she gets to that bridge, she will cross it. He obliged her.
Career
Soon after registering with AGN, Destiny Etiko started attending movie auditions and playing minor roles in films like Airline Babes where her talent was being nurtured for the big break. Part of the nurturing was to learn how to act alongside a more established actress without being star struck and in the process and become jittery when it was time to face the camera. In 2011, she got a reality check the first time she acted with Mercy Johnson. She was given four scenes to do with her. Four scenes were done without confidence.
"It's not really as if I didn't do well, but I lacked complete confidence because I was a beginner," she later confessed.
"But everything in life takes a gradual process and you get better by the day."
She indeed got better and when the big break came a year later, she grabbed it with both hands.
In the epic movie Idemili, (released in 2014 but shot two years prior) Destiny Etiko starred as Ekemma, who in one of the scenes carried a python around her neck. Her role in the movie which showcased ancient Igbo culture, mystics, and values and directed by Ernest Obi, earned her a nomination at the City People Awards as the "Best Promising Actress". She won.
The 32-year-old has since shared the screen with famous Nollywood stars like Cynthia Okereke, Yul Edochie, Destiny Etiko, Patience Ozokwor, Eve Essien, and Pete Edochie, to name but six.
Movies
Destiny Etiko has featured in over 100 movies in different roles (village girl, glamourous girl, or the usual everyday girl) and different settings (urban, epic, etc.). The self-name, Drama Doll, cannot be more apt. Here are some of her movies.
Fear of a Woman (2016)
3 Days to Wed (2016)
The Storm (2016)
Evil Seekers (2017)
Tears of Regret (2018
Barren Kingdom (2019)
Pains of the Orphan (2019)
Clap of Royalty (2019)
The Hidden Sin (2019)
Family Yoke (2019)
King's Word (2019)
Sound of Evil (2019)
My Private Part (2019)
The prince & I (2019)
Heart of Love (2019)
My sisters love (2019)
Power of Royalty (2019)
Sunset of Love (2019)
London Prince (2019)
Woman of Power (2019)
Poor Billionaire (2019)
Virgin goddess (2019)
Queen of love (2019)
The Sacred Cowry (2019)
The Return of Ezendiala (2019)
Living in Poverty (2020)
Hour of Victory (2020)
Destiny Etiko Awards
Aside from the one she got for her sterling role in Idemili, the 32-year-old actress has won several awards including the Best New Actress at the Africa Magic Viewers' Choice Awards, Best Actress in a Supporting Role at the Golden Icon Movie Academy Awards, Best Actress in Nigeria at the best of Nollywood Awards.
Occupational hazard
Each profession has its peril. A footballer is scared stiff of injury. A plane crash is usually at the back of the mind of a pilot. For those in the movie industry, especially the female gender, sexual harassment is a big occupational hazard.
Destiny Etiko is good-looking. Destiny Etiko is endowed in the right luscious places. And yes, she has had her fair share of sexual harassment.
"Sexual harassment is everywhere, not just in Nollywood and I won't lie to you that I've never experienced it, because I have," she said.
"There are people who would want to deprive you of the role given to you because you didn't sleep with them. Some will even sleep with you and still not give you the role. So, it is left for you to know yourself and know your job. If you can act well, your blessing will locate you. If you want to sleep around, it is your choice but it cannot guarantee your getting roles often. So many girls who have succumbed to such harassment have come to regret it."
Destiny Etiko Marriage
For now, Destiny Etiko is married to Mr. Acting and the couple resides in Nollywood (plans to relocate to Hollywood are in the offing). They have 13 children named Atmosphere, Character, Dramatic tension, a set of twins – Language and Texts, Metaphor, Mood, Relationships, Role, Situation, Space, Symbol, and Time.
Destiny Etiko Net Worth
Making a net worth calculation can be very difficult because many rich people tend to hide the true value of their assets to avoid paying taxes. The second difficulty comes from the last part of the definition of net worth.
Net worth is the value of a person's wealth including their income and total assets, after subtracting the person's debt. It takes a falling out with a bank, or a loan shark or a benefactor to know a man's debt profile.
So, for the net worth of Destiny Etiko, and every other person operating on that radar, we can only hazard a guess.
With income from her occupation, several endorsements with the likes of Desperado (tequila-flavoured lager beer), Ehi-Kings (real estate firm), her known and unknown assets, and her known and unknown debts one could arrive at an estimate between $600,000 and $800,000.
With Nollywood's heavyweights like Genevieve Nnaji, Ibinabo Fiberesima, Funke Akindele, Omotola Jalade-Ekeinde, Rita Dominic, Destiny Etiko is unlikely not on the top-10 list of actresses with huge net worth and bulging bank account balances. Longevity and talent have helped the sextet. Destiny Etiko hasn't reached the peak of her powers yet and she sure has talent in overdose.
Destiny Etiko house
Here, pictures will take over.
Destiny Etiko cars
Pictures are still on duty.
And this…
Charitable gestures
While Destiny Etiko is lovely, we need to remember that her face is not what distinguishes her. Her beauty is a reflection of the virtue she keeps inside. Destiny Etiko Foundation (DEF), definitely has made a lot of differences in the lives of the less privileged. The non-profit organisation on countless occasions has visited schools, orphanage homes, and reached out to people in various localities just to lend a helping hand.
But as they say, charity begins at home. In 2019, Destiny Etiko gifted her mother an apartment just to thank her for supporting her decision to become an actress.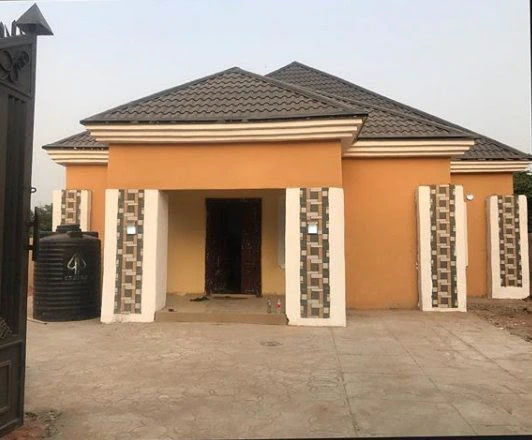 It seems the unwritten motto of Destiny Etiko is a quote from Winston Churchill. "We make a living by what we get, but we make a life by what we give."
Are we not forgetting something? Oh, yes…
Destiny Etiko phone number!
Whatever your reasons may be, getting in direct contact with someone like Destiny Etiko can be a difficult process. And we must confess that we don't have her phone number. However, most celebrities tend to be contactable via their social media handles or through their agents.
Conclusion
The idea of a star being born is unfounded. A star, like Destiny Etiko, is created, carefully and cold-bloodily. Built-up from nothing, from nobody to somebody. Like we pointed out earlier, Destiny Etiko has evolved to become a prominent and influential personality in Nollywood and beyond.
She came to this world the day a shining light in Nigerian football departed. Sam Okwaraji, who died at the age of 25, was a constant flow of inspiration and determination to his colleagues and fans. 'Inspiration' and 'determination' are qualities the Enugu-based actress has in droves that easily remind one of the late soccer star.
May your light never be dimmed, Destiny Etiko.