When you hear the word criminal gangs, the first thing that pops into your mind is armed robbers; those noisome nocturnal pestilences that punish you if you're lax with security. Or, in certain cases, cut your toilet window's burglarproof and then wiggle through that tight space (talk about commitment. Or desperation). Or if you're a student, you think secret cults.
However, organized crime in Nigeria is so much more than that, as it includes activities by fraudsters, bandits (such as looting and kidnappings on major highways), racketeers, and drug traffickers. From the infamous Lawrence Anini, aka The Law, who held the mantle of Nigeria's most notorious armed robber in the '80s, to the Fulani herdsmen that are currently rampaging across the country, several criminal gangs have sprung up over the years and given security agencies a run for their money.
Criminal organizations in Nigeria generally do not follow the mafia-type model practiced by criminal gangs in other countries; they are less formal and more organized along ethnic and familial lines. This makes them less susceptible to infiltration by law enforcement agents. Most of them are also smaller-scale freelance operations.
History of Lawlessness in Nigeria
Nigerian criminal gangs rose to prominence in the 1980s, owing much to the globalization of the world's economies and the high level of lawlessness and corruption in the country. It was around this time that Anini and his gang rose to prominence, carrying out deadly attacks in the old Bendel region that is now Edo and Delta states. The Law, as he was famously known, remains one of the most notorious criminals to have terrorized this country before his arrest and his gang's eventual disbandment in 1986.
Before Anini, however, was Ishola Oyenusi, aka the Doctor, a robbery generalissimo who held Nigeria's southwest by the jugular in the '70s. Said to have boasted at the zenith of his criminal escapades that "bullet has no power over me", it was hard to believe that Oyenusi could be captured. But apprehended he was, and he was executed on September 8, 1971, at the famous Bar Beach in the presence of about 30,000 Nigerians.
The '90s saw the reign of terror brought about by Sina Rambo, the fearsome criminal and the mastermind of many attacks in the southwest, where he carried out robberies and killed with impunity. And even though he's reportedly dead, another account has it that the person killed was not the real Sina Rambo, as a repentant criminal, Mathew Oluwanifemi, now a man of God, claims to be the real Rambo.
ALSO READ: Most dangerous places to visit in Nigeria
Criminal gangs in Nigeria
Badoo
This ritual group is perhaps the most infamous of the criminal gangs due to their notoriety in 2018 for terrorizing Ikorodu and its environs. Their extremely fetish practices were most alarming, as members broke into homes or places of worship and savagely murdered anyone in their sight by splitting their heads open with pestles.
According to members who were apprehended, a small handkerchief was usually doused in the victims' blood, and on some occasions, body parts are severed. After a long spree of unchecked violence, security agencies turned the heat up on the group, and they were eventually nipped in the bud.
Icelanders
The south-south part of Nigeria has an unsavory reputation for deep-rooted cultism, a phenomenon that has seeped from the universities into everyday life. Campus cults in places like Port Harcourt and Benin have street cells and offshoots in residential communities and recruit kids from a very young age.
The Icelanders were created in this design. Since its inception, this criminal gang has terrorized residents of Port Harcourt and areas where oil wealth is vastly segregated, engaging in paid murder, kidnappings, oil bunkering, and similar activities.
One Million Boys
Thanks to controversial singer Portable and his infamous claims, the One Million Boys are back in recent memory. A code-name for a gang notorious for robbery and looting around Lagos and its surroundings, the One Million Boys are a sad example of how street violence can influence young boys to form armed groups.
The group was reportedly formed in Ajegunle by a group of 20 boys who sought to "represent" their communities, but at some point, their objectives derailed and moved to robbery activities, rape, and maiming. At its height, the group was so notorious and feared that many clamored for their incarceration. About 130 suspected members of the group were arrested by the Lagos State Police Command during a raid around Apapa and Ajegunle in October 2012; this raid signaled the beginning of the group's end.
ALSO READ: Why electoral violence festers and how it affects elections in Nigeria
The Black Axe
The Black Axe group is an example of a confraternity (secret cult) that got visa, as it is one of the criminal gangs that has spread its wings to become an international syndicate. Founded around 1977, one of the group's infamous crimes was the Obafemi Awolowo University massacre.
They were also allegedly involved in the murder of at least 200 people in 2014, as well as carrying out other criminal activities around the world, including internet fraud, drug smuggling, acting as hired thugs for politicians, human trafficking, robbery, and rape. They were also investigated in 2022 by the American government for romance scams and advance-fee scams, as well as the rife sodomy of children.
Members of the Black Axe allegedly pledge allegiance to a deity called Korofo, aka the unseen God, a god that sodomizes children, and according to their ideology, they are fighting against civilization. Their name originates from the Neo-Black movement symbol that features a black axe breaking the chains of oppression, and they have spies known as "anuses" all across Nigerian society.
Area Boys
Sorry, all you Class D broad shaggis, but you also classify as criminal gangs. Oh, you think you don't? Is any dime of your father's money invested in that park that you and your group claimed as your own? Or are you the one that bought the bus for that driver that you're harassing for owo load? Or who told you that without you, buses won't load? If you were to be searched, can you say we won't find marijuana on you? Abeg take your knighthood of criminality, and let's move on.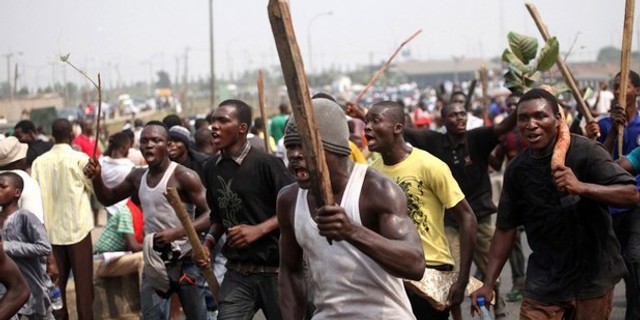 Boko Haram
Known officially as Jamā'at Ahl as-Sunnah lid-Da'wah wa'l-Jihād (Group of the People of Sunnah for Dawah and Jihad), the Boko Haram group is one of the criminal gangs that have attained a higher level of notoriety and climbed into the realm of terrorist group. Operating out of northeastern Nigeria and founded by Mohammed Yusuf in 2002, the group was led by Abubakar Shekau from 2009 until the latter's death in 2021.
Boko Haram's founding ideology was to purify Islam in northern Nigeria and believed jihad should be delayed until they were strong enough to overthrow the Nigerian government. They are known for their brutality and have killed hundreds of thousands of people while displacing millions more from their homes. According to the Global Terrorism Index, they were the world's deadliest terror group in the mid-2010s.
ALSO READ: Cult groups in Nigeria and their symbols, colours, slogan
How To Tackle Criminal Gangs in Nigeria
In order to effectively curb the menace of organized criminal gangs in Nigeria, the following methods can be used, among others in accordance with various UNO resolutions on the matter:
Legislation that penalizes participation in criminal associations and imposes criminal liabilities on corporate bodies who are found guilty.
Encouraging cooperation and testimony of members of organized criminal gangs by limiting the disclosure of the address and identity of witnesses, as well as the implementation of witness protection programmes
Reliable evidence-gathering techniques, such as electronic surveillance, undercover operations, and controlled delivery, should be considered in national law
Implement legislative and regulatory measures that limit financial security, ensure adequate record keeping and impose an obligation for the identification and reporting of suspicious financial transactions
Defeating the economic power of criminal organizations through criminal law measures with appropriate sanctions, sentences, and regulatory mechanisms. The laundering of criminal proceeds must also be criminalized
Using mass media campaigns to promote and stimulate public awareness of the evils of organized crime. The need for public participation is important in the prevention and curbing of organized crime and the promotion of national security.
ALSO READ: Agbero: The indelible strand of Lagos transport DNA