Okay, so we're just hitting the halfway mark, and a lot of the good stuff is still yet to come. I mean, if I was an artiste, I wouldn't drop my album early in the year. I'd take all year to study all album releases and perfect mine in accordance, then on the 31st of December at 11:59 pm, I'd unleash a masterpiece to knock them all out. Gimme all the awards, baby!
But then, that is no reason not to celebrate all those that have already come before. So, without further ado, let's get into it.
Nigerian Alternate and Afropop artist Adekunle Gold, a.k.a. AG Baby, followed up the success of his 2020 third studio album Afro Pop Vol. 1 with another titled Catch Me If You Can. Throughout 2021, Adekunle teased the upcoming album with snippets, such as the release of singles like Sinner and High, and the entire collection finally dropped on February 4, 2022.
Described by TooXclusive as "a sensual slow burn steeped heavily in Afrobeats, with a nod to Amapiano", Catch Me If You Can was released via Afro Urban Records and features guest appearances from Davido, Fousheé, Fatoumata Diawara, TY Dolla $ign, Lucky Daye and Stefflon Don. See the fourteen-track list below:
Born Again (Ft. Fatoumata Diawara)
Win
Mase Mi
One Woman (Ft. Ty Dolla $ign)
Mercy
More Than Enough
Sinner (Ft. Lucky Daye)
FYE (Ft. Stefflon Don)
Sleep
High (Ft. Davido)
Dior, Dior, Dior (Ft. Fousheé)
It Is What It Is
Selah
Catch Me If You Can
V – Asa
If either Jailer or Fire on the mountain isn't playing in your head right now, then I don't even know what to say? Is it that you don't know Asa, or you need an upgrade in music taste? Never mind that the Nigerian-French singer has a penchant for flying under the radar, just like most of Nigeria's talented alternative artistes, but she has put out music on a consistent basis over the last decade, thus endearing herself to fans both at home and in the diaspora.
Asa's last major project, Lucid, dropped in 2019, and the Eye Adaba crooner left her listeners to marinate their souls in that while she toured across Europe for the better part of three years. And just like the saying "good things happen to those that wait", she rewarded her fans for their patience with Mayana in December 2021, and her fifth studio album, aptly titled V (roman numeral for five) was released on the 25th of February 2022 featuring the likes of Wizkid, Nigerian highlife duo The Cavemen and Amaarae, a Ghanaian artiste.
"V is about happiness, love, friendship and lots of joy," she said in an interview with Apple Music. "It's fresh and modern, but it's also something you're familiar with. I'm simply expressing being with the flow of things. Writing these songs at home meant the soil, air, food and sun all made contributions to the creation of this album. The album was written entirely in front of water and that definitely contributed greatly to the songs because I was so calm. That solitude I love is something you'll hear a lot on V."
The ten-track record was released off the record label Platoon.
Mayana
Ocean
IDG (feat. WizKid)
Nike
Show Me Off
Morning Man
Good Times (feat. The Cavemen)
Believer
All I Ever Wanted (feat. Amaarae)
Love Me Or Give Me Red Wine
Rave and Roses – Rema
I can only imagine the kind of frustration Apple Music and Musixmatch lyrics finders must feel each time they open their task board and see that the next project is a Rema song. I mean, I can't be the only one that can't hear what he's saying half the time, right? Oh, you can? Don't worry; I will find you, and you will sing one of his tracks to the end, and for every mumble, you pay 5k. Oh, not so smug anymore, are we?
But whether we can sing along or we're just humming along like mosquitoes, it doesn't take away from Rema's talent. Ever since he burst into the scene with Dumebi, Bad Commando and Iron Man in 2019, with the latter appearing in Barack Obama's summer playlist, he has been making waves. His first full-length album Raves and Roses was released on 25 March, 2022 via Jonzing World, a subsidiary of Mavin Records and features top international artists Chris Brown and Aj Tracey. According to ChartsAfrica, the album became the number one on Apple Music in five countries barely two hours after its release, and is the first Nigerian album to achieve this milestone, thereby making Rema the first Nigerian artiste.
Mehn… maybe their ears are different and they can actually hear what he's saying. Check out the track listing below:
Divine
Hold Me
Dirty
Calm Down
Soundgasm
Time N Affection (feat. Chris Brown)
Jo
Mara
Love
Addicted
Are You There?
FYN "Fresh Young Nigga" (feat. AJ Tracey)
Oroma Baby
Carry
Wine
Runaway
God's Timing Is The Best – Naira Marley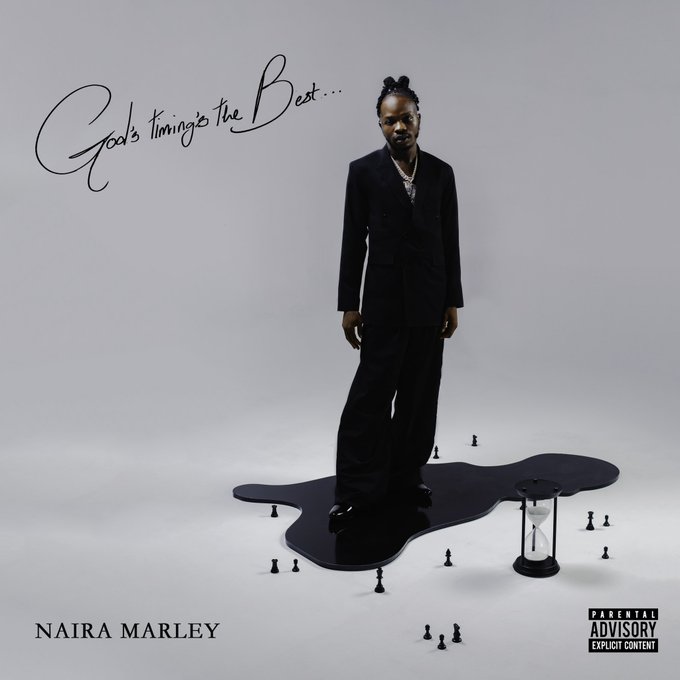 The President of the Marlians has seemed content to release multiple singles over the past years and never bothering to collate them into any significant whole and yes, these singles have been serious bangers, but this should have been an indication that something huge was in the pipes.
And he sure has delivered. His first major album God's Time Is The Best was released on May 30 2022 with a big splash, preceded by the first single First Time In America, which is an ode to his touring experience and has since garnered three million views on YouTube. In true Marlian fashion, he made sure to use the first minute of the single to announce that he disturbed America throughout his first trip, with the lines repeated in an oddly satisfying bopping pace. The video to Montego Bay garnering one million views on Youtube within five days of its release, which means Marlians everywhere are happy.
See the track listing below.
Jo Dada
Happy (ft. Mayorkun)
Ayewada
O'dun (ft. Zinoleesky)
No Panties (ft. Jada Kingdom)
Montego Bay
Melanin (ft. Lil kesh)
Drink Alcohol Like It's Water (ft. Chivv & Diquenza)
Excuse Moi (ft. MHD)
Modinat Kai
Owo (ft Mohbad)
First Time In America
Coming (ft. Busiswa)
Kojosese
TBH (To Be Honest) – Simi
Simi has sure come a long way from the conservative singer who managed to capture everyone's hearts with her soft demeanour and angelic voice. Now backed by a crowd of loyal listeners, her confidence seems to be at the best level possible for a new release, which many had thought would drop last year. But apart from a few appearances here and there, both as a guest singer on Chike's Running to You and as a sound mixer on Adekunle Gold's High and Sinner, she didn't release any major works.
"I've used all the songs I should have put on my album to do lullaby for Deja," she said in August 2021 (Deja is her one-year-old daughter). "So no album until 2022."
Well, 2022 has been up and running, and she finally delivered on her promise. Her fifth studio album TBH (To Be Honest) was released earlier this month on June 3, 2022, with production credits going to P.Prime, Pheelz, Ovonovo, Aykbeats. And while most of the tracks were produced by Blaise Beatz, Simi herself mixed all of them.
Story Story
Born Again
Naked Wire
Loyal (Ft FAVE)
Balance (Ft Adekunle Gold)
Logba Logba
Easy (Ft Deja)
No Joy
Temper
Nobody
Love For Me